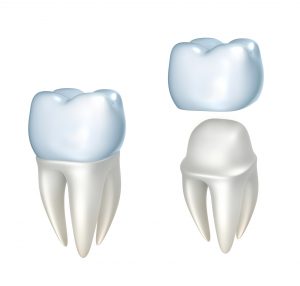 Dr. James Kirby, your dentist at Green Hills, strives to provide patients with comprehensive and convenient dental care. To fulfill this mission, Dr. Kirby offers patients the latest dental advancements to increase the level of care you receive. Now, when needing a dental crown in Franklin, you are able to get a crown in just one day with CEREC technology. The CEREC system allows you to undergo your entire restoration process in just one day, instead of having to deal with the headache and hassle of traditional dental crowns.

CEREC vs. Traditional Dental Crowns
To receive a traditional dental crown multiple appointments were required and you would experience a certain degree of discomfort. Your tooth would be prepared during the initial visit. Once prepared, an impression of the tooth would be taken. This involved holding a messy material in your mouth for several minutes, which often causes discomfort to the recently treated tooth. Not to mention, those who have severely damaged teeth may not be able to use the impression material, making the process even more complicated.
After the mold of the tooth had been taken, it would then be sent to an off-site dental lab, where your permanent crown would be created. With it taking an average of two weeks for your crown to be sent back to the dental office, you would need to wear a temporary crown during this time. Once your crown had been made, you would need to come in for a second appointment to have the crown attached.
CEREC technology greatly simplifies this entire process. Your tooth will be prepared and then instead of taking an impression, Dr. Kirby uses 3D images. These images are sent to our CAD/CAM technology. Dr. Kirby uses the state-of-the-art software to customize your crown to meet your exact size, shape, and color specifications. Then, our in-office milling machine will create your permanent crown right in our office from a single block of composite resin material. In less than an hour, your new crown will be ready. You will then have your crown attached so you can walk out of our office with a new smile.
With the use of the CEREC system, you will benefit from a simpler process by receiving your crown in just one day. There is no longer a need to use messy, uncomfortable impression material. And, you will no longer require a temporary crown. You will benefit from a high-quality restoration that is durable while meeting your exact needs for a flawless restoration. You will walk out of our office with a perfectly restored tooth in one appointment.
If you are ready to experience the best dentistry has to offer, it is time to choose CEREC same-day crowns for your restorations. Benefit from a quicker and less complicated procedure with Dr. Kirby and the CEREC system. Contact Dr. Kirby's office today in Green Hills to learn more about same-day restorations.
About the Author
When it comes to dentistry, there are few aspects that Dr. James Kirby enjoys more than cosmetic dentistry. Thanks to CEREC, he can place crowns for a wide variety of treatments, including dental implants. To learn more about his background in cosmetic dentistry or about the practice, contact him through his website today!