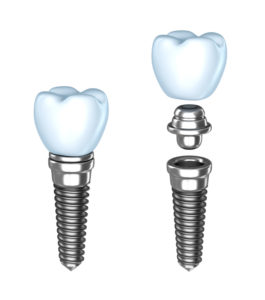 If you are missing a tooth, you are not alone. In fact, more than 178 million adults in the United States are missing at least one tooth. Although it may not seem like a real concern, your incomplete smile impacts your oral health. Each tooth has an important role in dental health and oral functions. When even one tooth is lost, your will suffer significant consequences. Not only does eating and speaking become more challenging, but you risk additional tooth loss due to decreased bone density. Now you can benefit from dental implants in Franklin with Green Hills to permanently replace your missing tooth.

What are Dental Implants?
Dental implants have quickly become the preferred choice to replace missing teeth because they offer over a 95% success rate. As a result, more than 500,000 dental implants are placed each year. When compared to other forms of tooth replacement, they are the only option to replace both the root and crown of a tooth.
A dental implant is composed of three parts: an implant post, an abutment, and a dental crown. Together, these offer the only form of tooth replacement that most closely mimics the appearance and function of a natural tooth.
What are the Benefits of Dental Implants?
In addition to regaining a complete smile, dental implants offer a lifelong solution as the titanium implant post is surgically inserted into the jawbone. Plus, they are the only tooth replacement solution to stop bone loss, protecting your remaining natural teeth. The implant post stimulates the underlying jawbone to stop bone density loss.
How Can I Get Dental Implants?
To replace a lost tooth with dental implants, you need a consultation with Green Hills. In most cases, as long as you have healthy gums and adequate bone density you are a candidate for the procedure. However, we will need to discuss your medical history and lifestyle habits. Using diagnostic imaging and a comprehensive examination, we will create a customized treatment plan.
During the first phase a treatment, a biocompatible implant post is surgically inserted into the jawbone. Over the course of the next few months, your jawbone fuses to the post. This creates a lasting, secure foundation for the replacement tooth. After the jawbone has healed, an abutment is attached to the post. This is needed to allow the gum tissue to heal while also providing a point to anchor the dental restoration. To complete your smile, a custom-made dental restoration is attached to the abutment.
Where Can I Get Dental Implants?
If you are ready to restore your smile and oral health with a dental implant, Green Hills can help. We offer the consultation necessary to begin your journey to a new smile. We will evaluate your oral health and tooth loss to determine if a dental implant is right for you. With an individualized treatment plan, you will permanently replace your missing tooth with the most preferred solution.
Make an investment in your oral health and quality of life with a dental implant. Contact our office today to schedule your consultation.
About the Author
One of Dr. James Kirby's favorite aspects of dentistry is cosmetic dentistry and dental implant restorations. If you decide to pursue dental implants, you can return to us to have your crown placed on top of your dental implant by him. To learn more about dental implants or schedule a consultation, contact him through his website.