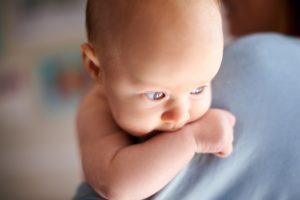 Are issues breastfeeding taking a toll on your sanity? A restrictive frenulum may be to blame. Lip/tongue tie causes problems with breastfeeding and digestive upset — and that makes for an upset baby and frustrated parents.
The frenectomy, also known as a frenotomy or lip/tongue tie surgery, frees the tongue from restrictive tissue for easier feeding and happier families. Dr. James Kirby is the dentist in Franklin providing the procedure for lip or tongue tie.
Recognizing Lip/Tongue Tie in Babies
Your baby needs a frenectomy if the frenulum, or the bit of tissue that holds the tongue or upper lip together, is so tight that it restricts proper feeding. Left untreated, the excessive tissue can affect the baby's nutrition and proper development. Later on, lip or tongue tie may impact the way your little one's speech develops or cause orthodontic issues.
But how can you tell whether or not your baby has lip or tongue tie? The symptoms are hard to ignore once you know what to look out for. Side effects of lip/tongue tie in infants include problems latching on during breastfeeding, slow development, poor bonding between the baby and mother, sleep problems, and issues introducing solid foods later on.
And for the mother, the baby's lip or tongue tie can cause severe pain during feeding, sore or damaged nipples, issues sleeping, and possibly depression or a sense of failure.
Lip or tongue tie can take a real toll on both baby and parents — and left untreated, the symptoms will progress as your little one gets older.
Lip/Tongue Tie in Older Children
If the lip or tongue condition is not caught early, your older child may need a frenectomy to solve a range of issues.
In kids, a restrictive frenulum causes difficulty chewing. Maybe you had difficulty introducing solids as your baby grew, and perhaps your child still avoids eating certain foods today. Gagging, choking, and vomiting may occur as a result of a restrictive frenulum. With all of these symptoms, it is not surprising that picky eating is associated with the condition.
The frenulum may cause issues maintaining proper dental hygiene, putting your older child at an increased risk of developing cavities and infection. Speech or orthodontic issues may occur as a result, which can negatively impact your little one's self-esteem.
What to Expect From a Frenectomy
Dr. Kirby knows how important it is to correct lip and tongue tie early, and he is an expert in providing comfortable, efficient frenectomies. He uses an incredibly precise laser to remove excess tissue. A laser frenectomy allows for better results and a faster recovery. With lip and tongue tie surgery performed at Green Hills, there is no need for scalpels or stitches, meaning you and your little one can expect a faster recovery, too.
Don't wait to correct a restrictive frenulum — do it for the sake of your child's nutrition and your own sanity. We invite you to get in touch with our office to discuss the need for lip or tongue tie surgery. Schedule an appointment today!
About the Author
Dr. James Kirby earned his dental degree from the University of Tennessee at Memphis in 2008. After graduating, he joined Green Hills Dental Center to provide exceptional dental care to patients of all ages. To learn more about frenectomies, tongue ties, lip ties, or about his practice, contact him at (615) 327-2123 or visit his website.