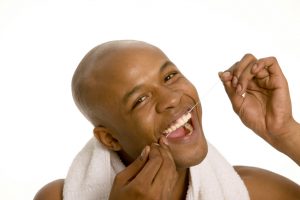 Have you given up flossing based on something you've read lately? As your dentist in Franklin, Dr. Kirby and our whole team at Green Hills were disappointed to learn that dental floss was dropped from the U.S. Departments of Health and Human Services and Agriculture's Dietary Guidelines. Now, our patients want to know one thing — does flossing still matter?
We've got just one thing to say: Yes. Flossing absolutely still matters. Watch this short video on how to floss if you need a refresher on the proper techniques.
Dental floss is the only method for removing the plaque and food particles your toothbrush can't reach. Bacteria, leftover food, and plaque collect between the teeth, causing bad breath, gingivitis and gum disease, tooth decay, and other issues. But flossing daily cleans the area between the teeth for healthier teeth and gums.
How to Start a Flossing Habit
We know that sometimes, the difficult thing about flossing isn't the actual act of flossing. Instead, it's simply remembering to add in the extra step after brushing. Many people rush through their dental hygiene routine at night without making time to floss. But we urge you to make a habit out of flossing. Your oral and overall health will benefit when you do.
Flossing can greatly reduce an adult's risk of developing gum disease, the condition that has been linked to poor heart health, diabetes, stroke, and other serious health problems. Over half of American adults are suffering from some form of gum disease, but the condition is easy to prevent with regular brushing, flossing, and preventive visits to the dentist.
Here are some tips for developing a good habit — why not try it with flossing?
Create a trigger that produces the action. With floss, it could be washing your face, or anything else you do as part of your nighttime routine. Floss immediately after your trigger. With enough repetition, the action will become second nature.

Start by telling yourself you will. Sometimes, people are unable to floss because they don't really try to pick up the habit. Tell yourself right now that you will use dental floss at least once a day, for the benefit of your oral and overall health. You may find that believing you can is half the battle.

Keep track of your progress. Mark the nights you've flossed off on a calendar, or put a note in your phone for every day you floss. It's a way to note the progress that may be otherwise difficult to see at first.
Remember that dental floss is just one part of a good dental hygiene routine. Be sure to brush your teeth for two minutes, after each meal or at least twice a day, and schedule regular visits with your dentist to benefit from routine preventive care. If you floss like you should, these hygiene appointments will be a breeze! When was your last checkup and cleaning? Preventive dentistry is the foundation of a smile that stays healthy for a lifetime. Request a visit online today!
About the Author
According to Dr. James Kirby, flossing is just another piece of the preventive care puzzle. After graduating with his dental degree from the University of Tennessee's dental school, he returned to Franklin to provide dental care to the community. To learn more about his practice or flossing techniques, contact him at (615) 327-2123 or visit his website.