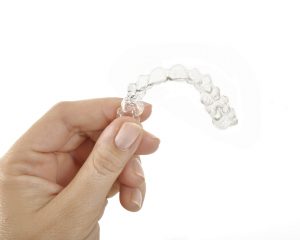 So what's on your Christmas holiday shopping list? The usual probably: sweaters, gloves, ties, and jewelry, even a puppy for someone who's been very nice. Those gifts are so 2015. Why not rock someone's world this year by giving him or her a straight smile? With Invisalign, Franklin residents can give themselves or a loved the gift of a lifetime.
Who Should Receive an Invisalign Gift?
The age of people on your gift list is almost irrelevant when it comes to deciding who should get Invisalign. This transformative orthodontic system is designed for smiles young and not so young. Initially, Invisalign was created for busy adults who wanted braces but did not want metal brackets and wires interfering with their social and professional progress. Now, however, Invisalign also offers a special system designed just for teenagers. So clear braces can be the perfect gift for anyone on your list.
Why Is a Straight Smile Important?
Obviously, having a straight smile can boost someone's confidence by making him or her look more attractive. But did you know that a beautifully straight smile could make you appear more intelligent, more successful and even more popular, too? That's what research shows. In addition, teeth that are straight are easier to keep clean so your whole mouth will be healthier, too.
What's Involved in Having Invisalign Braces?
The process is quite a bit simpler than wearing traditional braces with brackets and wires. You'll first meet with Dr. Kirby who will need to make sure your teeth and gums are healthy enough for orthodontic treatment. Dental problems such as gum disease or cavities will need to taken care of first.
Then, the fun can begin! We'll take photos, digital x-rays and impressions of your teeth. Franklin dentist Dr. Kirby will use the information gathered from these to develop a treatment plan. This plan forms the basis of a 3D representation that Invisalign creates and uses to build your clear braces. Each set of braces is custom designed to move your smile one step closer to perfection.
What's Your Part in Invisalign Treatment?
All you have to do is wear your Invisalign aligners for about 22 hours every day of treatment. These braces slip easily into place and fit snuggly over your teeth to gradually move them into proper alignment.
Because your Invisalign aligners are removable, you'll be able to eat all the foods you enjoy and brush and floss your teeth as usual. Depending on your individual orthodontic needs, you may have a straight smile in time for next Christmas!
Call Our Office Today
If you've been searching for just the right gift to give yourself or a loved one, then consider Invisalign. Franklin residents and beyond trust their orthodontic treatment to Dr. Kirby at Green Hills.
About the Author
One of Dr. James Kirby's favorite aspects of dentistry is cosmetic dentistry. He loves helping patients get their smile looking the way they want, fixing poor bites, and improving their oral health in the process. To learn more about Invisalign or about the practice, contact him through his website.