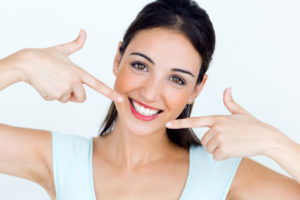 Too much of anything is not necessarily good for you. Take teeth whitening products, for example. If used too often or incorrectly, the chemicals that whiten your teeth can do harm. However, that is not something you'll need to worry about when you elect to have professional teeth whitening in Green Hills. Active ingredients penetrate the porous enamel surface of your teeth to lift stains. After each whitening treatment, your teeth naturally remineralize and rehydrate.
Teeth Stains and Discoloration
Teeth are just like the rest of the human body—eventually, they show signs of aging. Like other characteristics such as hair and eye color, the color of our teeth is also genetically programmed. Our teeth are predominantly white with a touch of gray, brown or yellow. As we age, these hints of color tend to become more pronounced.
Other factors that commonly contribute to a less than white smile include:
The foods and beverages we often enjoy, such as coffee, tea, cola, red wine, tomato sauce and berries
Cigarette, cigar and pipe smoking, as well as chewing tobacco
The antibiotic tetracycline if given while teeth are developing
Microscopic cracks in your teeth that hide stain-causing bits of food
Bruxism, or teeth grinding and clenching
Certain kinds of chemotherapy and radiation to the head, neck and shoulders
Sinsational Smile®
Sinsational Smile is an in-office whitening system that takes only 20 minutes to achieve remarkable results. That's the fastest whitening treatment on the market today! Sinsational Smile uses mouth trays that are pre-filled with whitening solution. Once these trays are comfortably and securely in your mouth, a special LED light is used to activate and accelerate the ingredients in the gel, so the whitening process is most effective in the shortest amount of time. After the 20-minute treatment, your smile will be noticeably whiter and brighter. You will also receive a take-home maintenance pen, so you can touch up your smile at home whenever you want.
For more information about Sinsational teeth whitening in Green Hills, or to schedule a whitening treatment, call your dentist today.
About the Practice
Green Hills Dental Center offers a wide variety of cosmetic dentistry solutions to help patients in Nashville achieve the smile of their dreams. Dr. James Kirby and his team use state-of-the-art dental techniques and technologies to provide the highest quality in dental care. If you would like to learn more about Sinsational teeth whitening and other options to transform your smile, visit the Green Hills Dental Center website online or call the office at 615-265-0034.