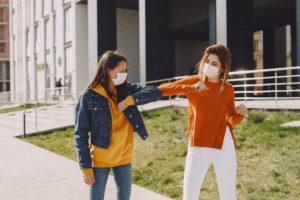 As we try to combat the effects of COVID-19, social distancing is one of the most important steps you can take to stop the spread of the virus. Even as the country reopens, it's essential you maintain your distance from others. Unfortunately, this can seem a bit difficult if you need to see your dentist in Green Hills, especially if you're a hugger. If you have been seeing the same dental team for years, it's easy to walk into the office and give them a hug or shake their hand; however, you can't do that with the current safety protocols. Don't worry, here are 4 creative ways to greet your dental team without placing anyone at risk.
Why is Social Distancing Important?
There's still much to learn about coronavirus; however, one thing we know for sure is the importance of social distancing. The virus can be spread from person-to-person when in close proximity to one another. Physical distancing of at least 6 feet or 2 arms lengths from other people is recommended by the Centers for Disease Control and Prevention.
This isn't easy when you're at the dentist, but your dental team will take extra precautions while you're in the office to ensure everyone's safety. Besides wearing personal protective equipment, they will also keep their distance from patients whenever possible, like avoiding hugging when greeting you.
Creative Ideas to Greet Your Dental Team
If you've been visiting the same dentist for many years, your dental team can feel like family. As a result, it might feel awkward to walk into the office and not give them a hug. Your dental team understands you aren't being rude, and the feeling of awkwardness is mutual. Although you might not be able to hug or shake hands, there are some clever ways you can greet your dental team, such as:
Shaking Shoes: Instead of touching hands, you can lightly tap your shoes together. It's a fun alternative to a typical handshake.
Bumping Elbows: We've all seen a fist bump, but what about an elbow bump? Everyone will have a laugh without compromising anyone's health.
Namaste: This is a traditional greeting in India that doesn't require any contact. Pressing the palms of the hands together with the elbows slightly bent is an easy greeting for any situation.
Bowing: People in other countries, like France, have adapted bowing as an alternative to kissing cheeks.
Keep Your Distance
The latest dental safety protocols in Green Lake aren't there to discourage people from interacting with each other. Instead, they are intended to keep patients and staff healthy. As we adapt to these changes, there are some creative ways you can continue to maintain some sense of normalcy when greeting your dentist.
About Dr. James Kirby
Dr. James Kirby knew from a young age he wanted to help people achieve beautiful smiles. After graduating from high school with honors, he earned his dental degree with athletic and academic scholarships. Over the years, he's regularly continued his training to provide modern services with patient safety in mind. You can rest assured his office is abiding by the latest guidelines to prevent COVID-19. If you need an appointment, contact our office today.