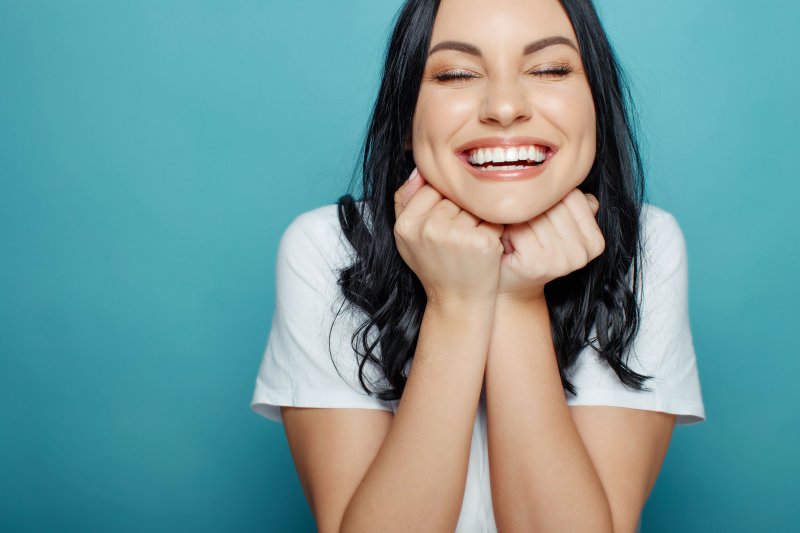 You might have considered veneers and so far, the results sound like they would be amazing. However, you still aren't certain why veneers should top your other cosmetic options. If you're still on the fence, that's okay! Your local cosmetic dentist can help you understand the benefits of porcelain veneers at Green Hills.
The 9 Benefits of Porcelain Veneers
Porcelain veneers are a cosmetic treatment that helps correct a multitude of imperfections by attaching thin, porcelain shells to the front of your teeth. Here are nine benefits veneers offer:
Veneers Cosmetically Repair Teeth Simply and Easily: Veneers can be custom-made, addressing any minor or major adjustments you want.
Veneers Offer a Natural Appearance: Not only will the porcelain veneers look natural, but they'll also feel and act like your real teeth!
Veneers Are a Minimally Invasive Treatment: Unlike other restoration procedures, porcelain veneers don't require an invasive process. After making small adjustments to the size or color of the veneers and slightly shaving down the surface of your teeth, your dentist simply places them with a special cement, and you're done!
Veneers Are a Quick Cosmetic Fix: If you want to change the appearance of your teeth due to any cosmetic issues, porcelain veneers are your quickest solution, usually completed in just two appointments.
Virtually Permanent and Durable: With proper maintenance, your veneers can last 10-15 years. On top of that, they are stain-resistant and don't decay!
Easy Maintenance: With typical oral hygiene, brushing and flossing your teeth daily, you can easily keep your porcelain veneers in good condition.
A Fantastic Tooth Whitening Option: Since the porcelain veneers resist stains and discoloration on their own, you only have to focus on cleaning them daily and avoid dark drinks or food.
Viable Treatment for Enamel Loss: Your natural enamel can wear down due to highly acidic foods, acid reflux disease, or simply because of natural aging. Veneers can essentially replace your enamel.
A Worthwhile Investment: Though veneers can be more costly than other cosmetic treatments, the durability they give you will offer more bang for your buck. Not only are they longer lasting than other options, but you'll feel more confident knowing your teeth will look amazing for several years to come.
Choosing whether to commit to porcelain veneers or not is an important step, and knowing the benefits they'll bring you will hopefully help in your decision. It also helps to imagine how you'll feel about your teeth in the long run, knowing you can show off a perfect smile.
About the Practice
Green Hills Dental Center is located in Nashville, TN, where Dr. James Kirby and his team offer convenient, comfortable, and comprehensive dental care. Green Hills Dental Center provides patients with every type of service under one roof, including porcelain veneers and other cosmetic dental treatments. If you have questions about porcelain veneers, visit their website or call 615-327-2123.