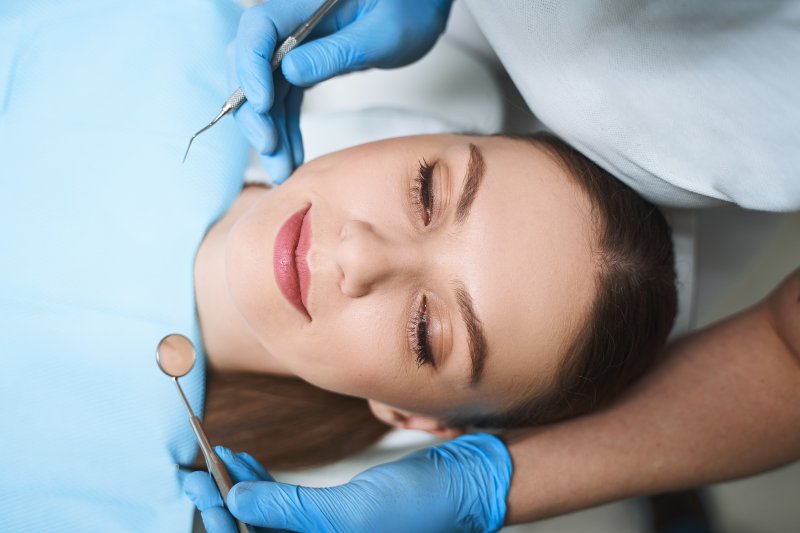 For most people, it is recommended that you see a dentist every six months for regular cleanings and checkups. This may seem like an easy task, but the truth is that this is easier said than done for patients with dental anxiety. Dental phobia keeps many people from attending their routine visits. In fact, approximately 36% of the population is affected by dental anxiety while a further 12% are impacted by extreme dental phobia. Thanks to sedation dentistry, more and more people are able to seek dental care despite dental anxiety. Here are some other additional benefits.
Sedation Dentistry Can Cause Anterograde Amnesia
One of the ways that patients develop dental anxiety is a result of a previous negative experience at the dental office. With every visit, the fear can irrationally become worse. Sedation dentistry can help to prevent patients from experiencing additional fear because it can reduce the memories left behind by your treatment.
Reduces Gag Reflex Sensitivity
The gag reflex is there to help the throat expel any intrusive foreign objects. However, during dental visits, an overactive gag reflex can make it more difficult for your dental team to work quickly and efficiently. It can also make the treatment process more uncomfortable for you. With sedation dentistry, the gag reflex is more difficult to trigger. In the end, it makes it much easier for the clinical team to treat you, and you will feel much more comfortable throughout the duration of your treatment.
Relieves Your Discomfort
With modern dental techniques and technology, your dental visits shouldn't be painful. If your teeth are on the sensitive side or you are afraid of discomfort of the teeth and gums during your appointments, sedation dentistry can help. The brain doesn't register pain as easily while under the influence of dental sedation.
Faster Treatment Process
When you are under sedation and anesthetics, you won't be involuntarily moving around and fidgeting as much as you normally would. This way, you will be more comfortable, and your dental team will be able to work faster. They might even be able to get multiple things done at one time. Ultimately, this means lower costs, fewer visits, and a shorter cumulative recovery period.
There is much more to sedation dentistry than just calming nerves. With modern anesthetics and sedation, dental visits will be a breeze!
About the Author
Dr. James Kirby is an experienced dentist who has been working in the field for over a decade! He earned his dental doctorate from the University of Tennessee at Memphis where he was awarded the Harold S. Cloogman scholarship for academic performance. He enjoys all aspects of dentistry, but he especially enjoys cosmetic dentistry and dental implant restoration. To learn more about sedation dentistry or to schedule an appointment at his office in Nashville, visit his website or call (615) 327-2123.