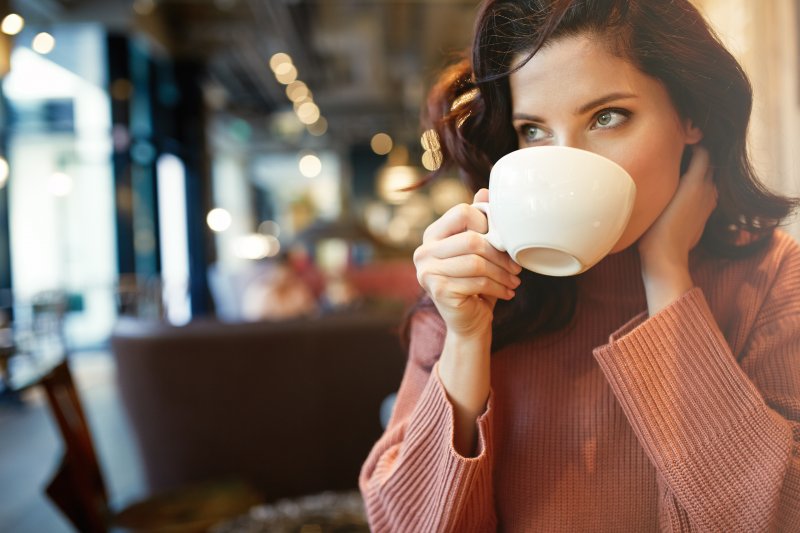 If you have a serious coffee habit, you may have noticed that it could seriously affect the color of your teeth. One of the most popular ways that people will deal with that kind of serious discoloration is with veneers, which are thin porcelain shells that can be adhered over your teeth.
However, once you get your veneers to cover your stained teeth, you may want to seriously consider what you can do to ensure that you don't stain them even further. You might even consider cutting back on coffee.
If you want to know more about drinking coffee with veneers, here's how that could affect your teeth.
Can I Drink Coffee With Veneers?
As was mentioned previously, most of the veneers you're likely to get are made out of porcelain. This material is one of the most commonly used in dental work—not only is it able to mimic a tooth, but it's also strong enough to endure the stress of one.
Additionally, porcelain has the benefit of being stain-resistant, meaning that coffee will cause them to discolor much more slowly than your enamel. While this may sound like something to be excited about (and it is), you should keep in mind that "resistant" is not the same thing as "immune."
If you drink enough coffee, you could still discolor your veneers. It's also worth noting that your natural teeth won't be affected by veneers, meaning that the teeth that haven't had work done will start to yellow just as quickly. If you keep drinking coffee, this will make it obvious that some of your teeth aren't completely real.
How to Prevent Coffee Stains
If you need your caffeine fix but don't want your smile to yellow, there are a few things you can try to reduce the damage. The first is to make a habit of drinking your coffee with a straw—that way, it won't spend as much time in contact with your teeth.
You could also try another source of caffeine. While bubbly drinks aren't great for your teeth, clear energy drinks like Celsius are less likely to cause stains than coffee.
And of course, the best thing you can do is to try to cut back on your coffee intake. That way, your veneers can keep shining for years to come!
About the Author
Dr. James Kirby comes to work each day with a single goal in mind: to treat every patient that he sees with the care and compassion he would expect if he were in their position. Dr. Kirby earned his dental degree from the University of Tennessee in Memphis, where he received the Harold S. Cloogman scholarship for academic performance. He has been working in dentistry since graduating in 2008.
If you have any questions about veneers, he can be reached at his website or by phone at (615) 327-2123.