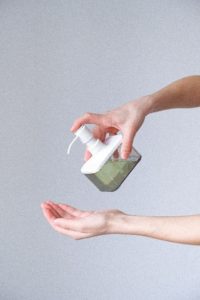 You know clean hands are essential for keeping you well, which is why you wash them after using the restroom or before preparing food and eating. Although handwashing has always been invaluable, it's more important than ever to help combat the spread of COVID-19. Your dentist in Green Hills has revamped their dental safety protocols to include more handwashing and sanitizing to keep patients safe. Even when you're not in the office, it's crucial you keep your hands clean. While it may seem self-explanatory, simple mistakes can leave you and others at risk of the virus. Here's how to ensure your handwashing is effective to stay healthy while doing your part to help stop the spread of coronavirus.
5 Steps to Wash Your Hands
Proper handwashing is proven to help prevent the spread of viral illnesses, including COVID-19. Not only does it lessen your risk of contracting it, but it also prevents you from spreading it to others. You can ensure your hands are germ-free by following 5 simple steps.
Wet: Place both your hands under clean, running water.
Lather: Apply a generous amount of soap to the inside and back of your hands. You'll also want to clean your fingertips for at least 20 seconds. Although they are often overlooked, your fingertips are especially important to clean because you use them to touch your eyes, nose, and face.
Scrub: Rub your hands together and use your fingertips to clean all surfaces of your hands and any jewelry.
Rinse: Rinse away the soap by placing your hands under running water.
Dry: Completely dry your hands because bacteria and microorganisms love moist environments. It's best to use a disposable towel, but air dryers are also effective.
Cleaning Your Hands with Sanitizer
It's not always possible to get to a sink and water, like when using public transit. If you can't wash your hands, you can still prevent the spread of viruses and germs using an alcohol-based sanitizer. This is a great option to keep your hands germ-free when you're away from home or using public services.
It's best to use a generous amount of one that contains at least 60% alcohol. Apply it to the palm of your hands and rub them together to clean the front, back, and fingertips. While it's best to wash your hands, sanitizer is effective when you can't get to a sink.
Keep Your Hands Clean and Stop the Spread
Keeping your hands clean helps to prevent cross-contamination throughout the community. Although it might seem small, you can do your part to help curve the spread of coronavirus.
About Dr. James Kirby
Dr. James Kirby earned his dental degree at the University of Tennessee in Memphis. He's committed to continuing his education to remain well-versed in the latest treatments and techniques, including the best dental safety protocols in Green Hills. He's updated his standards to help protect the community from COVID-19. If you have any questions about our safety guidelines, or if you need to schedule an appointment, contact our office today to speak with a member of our team.