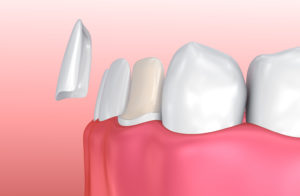 Our smiles are often the first thing people notice about us and can leave a lasting positive impression. In fact, according to research commissioned by the American Academy of Cosmetic Dentistry, 48 percent of adults think a smile is the most memorable feature after they meet someone for the first time – more than what a person says or even how they dress. All that attention fixated on our smiles, however, means that cracked, misshapen or stained teeth can make the wrong impression. Fortunately, modern cosmetic dentistry can often correct these dental imperfections with porcelain veneers. In today's blog post, a cosmetic dentist in Green Hills answers the basic questions about how porcelain veneers can transform your smile.
What are Dental Veneers?
Veneers are thin porcelain shells that are custom-designed to fit on the front of your teeth to fill in gaps or hide stained or misshapen teeth. To firmly bond a veneer to your tooth, a very small amount of original tooth enamel – usually less than a millimeter – must first be removed. The porcelain veneer is then applied to the top of the tooth and bonded using a light-sensitive resin and special curing light.
Dental veneers are an effective and attractive way to fix a variety of common dental imperfections, such as:
Cracked or chipped teeth
Stained or discolored teeth
Gaps between teeth
Poorly shaped or sized teeth
Are Dental Veneers Reversible?
The procedure to transform a smile with porcelain veneers is irreversible, as tooth enamel cannot be replaced once it is removed. However, you are highly unlikely to want to return to your old smile thanks to the many benefits of porcelain veneers, such as:
Natural appearance – Veneers have a translucent quality that makes them nearly impossible to tell apart from natural teeth
Fast procedure – You can completely transform your smile in just two visits to a cosmetic dentist
No recovery time – Once the placement procedure is complete, you can leave the dentist's office right away and continue on with your normal, everyday plans
Long-term solution – With proper care, porcelain veneers last from 10 to 15 years – or more!
Bright white smile – Unlike natural teeth, porcelain veneers are resistant to stains from coffee, tea, wine and even cigarette smoke
Whether you want to hide a misshapen tooth, brighten discolored teeth or even recreate an entire smile, porcelain veneers can restore the luster to your smile and the self-confidence to your personality. If you want to ensure that you leave a positive first impression with your smile, talk to a dentist today about whether porcelain veneers in Green Hills are right for you.
About the Practice
Green Hills Dental Center offers a wide variety of cosmetic dentistry solutions to help patients in Nashville achieve the smile of their dreams. Dr. James Kirby and his team use state-of-the-art dental techniques and technologies to provide the highest quality in dental care. If you would like to learn more about dental veneers and other options to transform your smile, visit the Green Hills Dental Center website online or call the office at 615-327-2123.