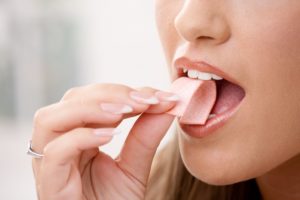 It's become a normal habit for you to, at different times of the day, grab a stick of gum and begin chewing. It gives you a sense of comfort in knowing that your breath is fresh and provides a way to generate some moisture in your mouth. Still, you wonder whether chewing gum is doing more harm than good for your oral health. Find out the answer from your dentist in Green Hills as you read on.
The Benefits of Chewing Gum
In addition to freshening your breath by ridding the mouth of certain bacteria and generating more saliva, there are other benefits of chewing gum:
Hunger Satiation – Are you looking to curb your appetite? Chewing gum serves as a great aid. The chewing action helps to curb your cravings by temporarily making you feel more satiated.
An Alternative to Candy – If you have a taste for something sweet, chewing sugar-free gum is a far better option than eating candy. Typically, it won't contain the same harmful amount of sugar, and in many cases is made with a product called Xylitol, a natural sweetener that's considered to be tooth-friendly.
The Downside of Chewing Gum
Here are some of the issues that can arise from chewing gum:
Jaw Problems – If gum is chewed too often and the jaw is not given adequate time to rest, you could experience clicking and popping. Over time, this can contribute to a serious problem called TMJ disorder, which is the inflammation of the joint that moves the upper and lower jaw.
Cavities – Chewing gum that's sweetened with sugar can leave you with a mouth full of bacteria that cause cavities. A sugar-free option provides the sweetness that your taste buds desire while avoiding the harmful side effects.
Issues Related to Artificial Sweeteners – Using certain artificial sweeteners can be even more devastating than sugar. An example is aspartame. Research shows that it is linked to cancer, diabetes and neurological disorders.
The Final Verdict
When it's all said and done, there is no final verdict on whether chewing gum is healthy or not. It's up to you to determine the answer. Using the information above, you can be more selective about the type you choose and how frequent you chew it to ensure that you have the best dental health possible.
When you visit your family dentist in Green Hills, he'll provide you with even more pointers, so your actions remain in alignment with maintaining optimal oral health. To schedule your first appointment, reach out today.
About the Author
A graduate of the University of Tennessee in Memphis, Dr. James Kirby has nearly a decade of experience as a dentist. He takes pride in building lasting bonds with his patients and helping them achieve the absolute best in oral health by providing expert care and helpful education. Dr. Kirby practices at Green Hills Dental Center and can be reached for more information through his website.