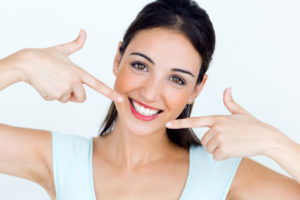 With the start of the new year, you have probably set some resolutions for yourself to have the best year possible. While you are creating new personal goals, do not forget about your dental health. As your dentist in Nashville, Green Hills is committed to helping you reach your oral health goals. We have 7 easy tips to help you maintain a healthy, beautiful smile in 2017.

1. Brush Your Teeth Properly
As far back as you can remember, you have been told to brush your teeth twice a day, but do you actually do it? According to the American Dental Association, only 56% of women and 49% of men brush twice a day. Brushing removes harmful plaque and tarter, which cause gum disease and tooth decay. Brush your teeth twice a day using a soft-bristled toothbrush and a fluoride toothpaste for at least two minutes each session.
2. Floss Daily
You need to floss your teeth daily to remove plaque and tarter from between the teeth and the gum line that cannot be reached with a toothbrush. However, the American Dental Association reports only 50% of Americans floss daily. Use an ADA-approved dental floss to clean between each tooth and around the gum line by inserting the floss between two teeth, forming a "C" shape around the tooth, and gently sliding the floss up and down the tooth.
3. Visit your Dentist Twice a Year
Regular dental cleanings are vital for removing plaque and tarter left behind from brushing and flossing. A regular dental checkup allows your oral health to be monitored to provide early detection and intervention for dental problems. Unfortunately, only 83% of children and 62% of adults visited the dentist last year. You need to see your dentist every 6 months as recommended by the American Dental Association.
4. Eat Healthy
A healthy, well-balanced diet is not just important for your overall health, but your oral health as well. Avoid sugary and starchy foods, which can lead to tooth decay. Eat fresh vegetables, fruits, lean proteins, and drink plenty of water for a healthy body and smile.
5. Stop Smoking
Smoking increases the risk for tooth decay and oral cancer, while preventing the body from healing and fighting infections. With a decreased immune response, you become more prone to gum disease, which can lead to tooth decay. Stop all tobacco use as soon as possible.
6. Have Damaged Teeth Repaired
If you have cavities or teeth that need repaired, do not delay care. The longer you wait for treatment, the more extensive the damage will become. Have damaged teeth repaired immediately to protect the health and integrity of your teeth.
7. Improve Your Smile
If you have cosmetic flaws hurting your confidence and the appearance of your smile, improve your smile with cosmetic dentistry. You will not only gain an attractive smile, but can improve your oral health as well.
Get a Healthy Smile This Year
At Green Hills, we want to see you maintain a healthy, beautiful smile that will last a lifetime. As you commit to your dental health this year, we will help you reach your goals.
About the Author
Dr. James Kirby loves building relationships with patients and treating them exactly the way he would like to be treated. It's this philosophy that makes providing care and compassion at Green Hills so rewarding. To learn more resolutions worth making this year, contact our office to schedule your consultation.