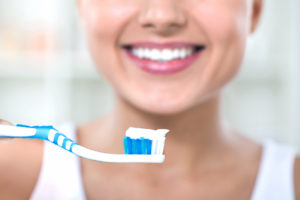 Did you know that most Americans only brush their teeth once a day? When you consider that most people eat more than three times a day, brushing this infrequently can leave your teeth in optimal condition for developing tooth decay, cavities, and gum disease. That's why it's important to make sure you brush long enough each time you brush, and that you brush often enough. And, when you receive professional cleanings from your dentist in Nashville, you'll meet the trifecta of oral hygiene. Learn about proper oral hygiene at home from the team at Green Hills.
How Often Should I Brush My Teeth?
The American Dental Association (ADA) along with Dr. James Kirby recommend the following slogan to make sure you brush often enough: 2×2. This means that you should brush your teeth twice a day for two minutes. To ensure you're brushing long enough, set a timer on your phone or play a fun song to make the time fly by.
When Should I Brush & Floss?
To give your smile an advantage, be sure to brush in the morning after you've eaten breakfast and to brush your teeth before bed, as well. This will give you the most protection from foods that can cause tooth decay and enamel problems. When it comes to flossing, be sure to floss before bed, since your mouth can become dry while you sleep, leaving you prone to cavities. And, if you can increase the flossing to twice a day, this is even better than once before bed.
What Tools Should I Use To Keep My Smile Healthy?
Dr. Kirby recommends the following oral hygiene products to make your smile healthy and bright:
Stannous Fluoride Toothpaste – Since this is naturally antibacterial, safer than Triclosan, and contains enamel-strengthening fluoride, this is a great option for your toothpaste selection.
Dental Tape – Since many people avoid flossing because it hurts, you can lessen the pain and trauma with a satin style dental tape. This flat, wide tape slides between teeth with ease to keep your gums safe.
Electric Toothbrush – Many people compensate for not brushing long enough by brushing with excessive force. Brushing too hard can cause both gum recession and enamel wear, so switch to an electric toothbrush that uses the correct, gentle pressure you need. These are especially excellent since they're timed for two minutes, ensuring you'll brush for the right amount of time, too.
And remember, while taking proper care of your teeth at home is essential, nothing will replace professional oral healthcare. Schedule your appointment with Green Hills today to get the professional deep clean you deserve from our experts!
About the Author
Dr. James Kirby earned his dental degree from the University of Tennessee's dental school in Memphis. Over the past decade, he's offered many patients advice on improving their oral care regimen in between biannual checkups. To learn more ways to improve your oral care or simply learn about the practice, contact him here.