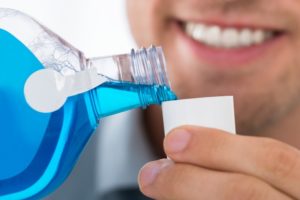 You've got your oral routine perfected at this point. You've stockpiled toothpaste at your grocery store's latest sale and even have spare toothbrushes when you're on the go. It seems you still haven't included a mouthwash in your routine though. Is it necessary? Or is it even worth buying? Your family dentist in Nashville is ready to settle it once and for all.
Mouthwash can provide many functions, but the key is finding the mouthwash your dentist approves of. To find out what that is, keep reading.
What Does Mouthwash Do?
The function of mouthwash truly depends on the type that you buy. It can freshen your breath, however, it can also complement the rest of your oral routine. For example, after you've finished brushing and flossing, mouthwash can remove bacteria from the really hard-to-reach areas of your mouth.
Some mouthwash contains chemicals that strengthen you enamel, while others can remove stains from the surface of your teeth. It will also leave a pleasant taste in your mouth, which is ideal if you've just had a particularly aromatic meal (i.e. garlic or fish.) The next time you visit your grocery store or pharmacy, consider these mouthwashes to include to your routine.
What are the Different Types of Mouthwash?
Mouthwashes can be broken down into three different types:
Cosmetic
Therapeutic
Prescription
If you are just looking to freshen your breath and leave a pleasant taste after a meal, cosmetic would be the best option. These usually do not contain ingredients designed to remove plaque and may not be considered the best option for properly cleaning your mouth to the fullest. Therapeutic on the other hand contains active ingredients designed to control and reduce bad breath, gingivitis, plaque, and tooth decay. Fluoride, which strengthens tooth enamel and prevents decay, is often found in over-the-counter mouthwash products.
Those looking for a stronger effect may need a prescription by a health professional to obtain. These mouthwashes can control conditions like xerostomia (chronic dry mouth) and prevent Alveolar Osteitis (dry socket) from occurring. The mouthwash you choose will largely depend on what purpose you intend it to fulfill.
Should I Use It Regularly?
When it comes to introducing your oral routine to mouthwash, it's safe to say that your dentist in Nashville recommends it for many reasons. Not only does it help keep your current teeth strong, but it can treat conditions like gingivitis, tooth sensitivity, and inflammation as a result of other medical conditions. However, it is never meant to replace brushing entirely. Brushing and flossing should always be the staple of any at-home oral care.
If you need a mouthwash that is geared towards killing bacteria that causes bleeding, inflammation and formation of plaque, speak with your dentist about prescriptions that could help. All patients are treated on a case-by-case basis, so what might be necessary for someone else might be overkill for you.
If you decide to include mouthwash in your routine, schedule an appointment with your dentist in Nashville today to see how it's improving your smile!
About the Author
Dr. James Kirby earned his dental degree from the University of Tennessee's dental school in Memphis. He always enjoys providing patients with care, compassion, and treating them the same way he'd want to be treated. To learn more about his practice, contact him at (615) 327-2123 or visit his website.