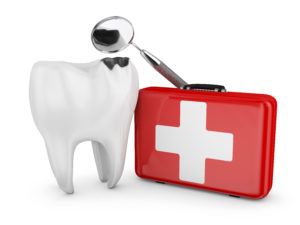 It's the last thing on your mind that day. You're too busy thinking about the stack of work on your desk that won't stop piling. As you grab your bag and coat you start heading towards the door until you hear a loud thud and a cry.
Your 8-year-old daughter runs to you for comfort and you notice blood dripping from her mouth. As you look in her mouth, she shows you the tooth in her hand. Do you know what to do in this situation? Your emergency dentist in Nashville sure does.
When Teeth Get Knocked Out
The good news is if the tooth is properly cared for and taken to a dentist immediately, the chances of it being reinserted and preserved are much higher. When it comes to knocked out teeth, you'll need to make sure it isn't stuck in the jaw before you begin these steps.
After finding the tooth, pick it up from the crown and avoid touching the roots. Before gently rinsing the tooth, place a towel or washcloth over the drain to avoid losing the tooth. Do not scrub or remove any tissue attached to the tooth. After rinsing, attempt to gently place it back into its socket. If this doesn't work, place the tooth in a container of saltwater or milk. Milk prevents the cells on the root of the tooth from swelling and bursting like they do in water, so this liquid is preferred.
Call your dentist as soon as possible. The longer you wait to reinsert the tooth the less chance it will be viable for your socket.
When Teeth Break, Crack, or Chip
Keep in mind if your tooth chips but you feel no pain, it doesn't necessarily classify as an emergency. You'll just need to be careful you don't chip it further while eating. However, if there is pain, swelling, or bleeding, it is likely an emergency.
Start by rinsing your mouth with warm water followed by a cold compress to reduce any facial swelling. If your pain is significant, take an acetaminophen such as Tylenol to alleviate it before you visit your dentist. Once you arrive, the dentist will take an X-ray and evaluate the damage done to the tooth. If the soft tissue is damaged, a root canal may be recommended. If the pulp is not damaged, you may only need a crown to cover the damage tooth.
When Teeth Become Loose or Misaligned
If you notice your tooth is moving out of place, call your dentist for an emergency visit right away. In the meantime, try to gently push the tooth back into place using your finger. If it doesn't stay, do not force it, as this could cause it to fall out completely. After you arrive, the dentist may try to splint the tooth to adjacent teeth to keep it stabilized.
Be one step ahead of emergencies with your dentist in Nashville. Don't hesitate to contact him after your next dental injury!
About the Author
Dr. James Kirby earned his undergraduate degree at Lipscomb University followed by his dental degree from the University of Tennessee in Memphis. When an emergency appears, you can trust your dentist knows how to handle it. Feel free to call him at (615) 327-2123 or visit his website.