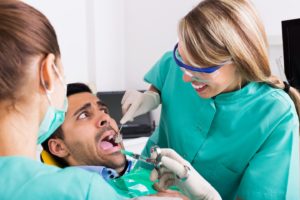 Let's be honest, not everyone enjoys visiting their dentist. Often, this can be due to dental-related fears and phobias. If this sounds like you, you may feel isolated and alone; however, the issue is more common than you might think. In fact, it is estimated that 15% of Americans delay scheduling an appointment for the same reason. If fear is keeping you from visiting your general or emergency dentist in Green Hills, you know that sedation dentistry can help, but you do not want to go that route. Instead, you would like to conquer your fears on your own. To help you overcome your anxieties, there are several things you can try to put your mind at ease.

Use a Topical Anesthetic
Many people fear pain during their dental appointments due to a bad experience in the past or from sensitive teeth. No matter the reason, you can help to ensure a pain-free visit by asking your dentist in Green Hills for a topical anesthetic. This does not require a needle to apply. Instead, it is an ointment that is used to pre-numb an area.
Use Blindfolds or Headphones
The sights, sounds, and smells of a dental office can be overwhelming, often causing anxieties to increase. To help block the sights and sounds that may cause your palms to sweat, consider wearing blindfolds and headphones to limit your sensory intake.
Ask for Breaks
It is not unusual for many patients to have difficulty laying in one position for too long. Some are claustrophobic and have a hard time having people too close to them. To help ease your discomfort, it is OK to ask your dentist to take a break. Prior to beginning your procedure, create a hand signal to notify your dentist that you need a minute or two prior to continuing.
Ask Questions
The fear of the unknown can help fuel anxieties. The more you know about a treatment, the more confident you will feel. To ensure that you understand every aspect of your treatment plan, be sure to ask any questions that you may have. In addition, you can conduct research at home to help you fully understand the procedure.
Bring Support
If you have a trusted friend or loved one by your side during your appointment, it can help you relax. Prior to your visit, arrange for a companion to accompany you to your visit.
Conquer Your Dental Fears
If dental fears are holding you back from visiting your dentist, you can overcome them on your own. If you do need a little extra help relaxing, ask your general or emergency dentist about the benefits of sedation dentistry.
About Dr. James Kirby
As a trusted dentist in the community, Dr. James Kirby takes the comfort of his patients seriously. He understands that some suffer from dental fears. He works to cater to everyone's comfort level to help them relax. If you are anxious about your appointment, Dr. Kirby will work with you to provide you with the compassionate care you need. Contact our office today to learn more.