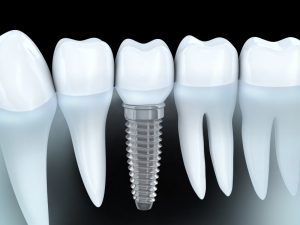 Those who have one or more missing teeth need to replace the gaps in their smile with prosthetics. Leaving missing teeth untreated leads to the loss of bone dentistry, which will eventually cause your remaining natural teeth to shift and possibly fall out. In the past, people turned to dental bridges and crowns or dentures to fill the missing space. But now, many are turning to dental implants. Dental implants provide a permanent tooth replacement option that looks and functions like natural teeth. Plus, dental implants prevent the loss of bone dentistry, protecting your remaining teeth. As your dentist for dental implants in Nashville, we have everything you need to know about this form of tooth replacement.

Tooth Replacement with Dental Implants
Dental implants are widely preferred to other prosthetics because they provide a permanent solution to tooth loss. Dental implants can be used to treat one or all missing teeth. A titanium post is surgically inserted into the jawbone, which will act as a new tooth root. The post is made from biocompatible material, so the body naturally accepts the post, allowing the bone to fuse to the implant. With a post inserted, your bone is stimulated to stop and even reverse the progression of bone loss. After your bone has fused to the implant post, an abutment is attached to the post. A custom-made crown is then attached to the abutment to hold the replacement tooth in place.
Receiving dental implants from an implant dentist in Nashville produces a wide range of benefits that just aren't possible with other forms of prosthetics. Dental implants offer the next best thing when compared to natural teeth in terms of function and appearance. You'll gain a complete smile that looks natural and will last a lifetime.
With a success rate of over 95 percent, dental implants will restore your oral function and health by filling in the gaps in your smile. The dental implants will provide your remaining natural teeth with the support they need to stay in place, preventing your teeth from shifting and eventually falling out. Since the dental implants are surgically inserted, you won't need adjustments in the future for a long-term investment in your smile.
Caring for dental implants is easy. You care for them just as you care for your natural teeth, except you will need to take a few extra precautions to reduce the potential for a bacterial infection. Bacteria is the biggest threat for dental implant failure, but with the right home care and regular visits to your dentist, you'll have a beautiful, healthy smile that lasts a lifetime.
Dental Implants in Nashville
If you're suffering from tooth loss and would like to gain a natural-looking smile to regain your confidence, now is the time to call your dentist for dental implants in Nashville. We provide the tooth replacement options you need to restore your smile and oral function. We will complete a thorough evaluation to determine the replacement options that best meet your needs.
About the Author
Dr. James Kirby earned his dental degree from the University of Tennessee at Memphis in 2008. Since then, he's taken a particular interest in cosmetic dentistry and enjoys providing dental implants restorations for patients in the Nashville community. To learn more about his practice, contact him at (615) 327-2123 or visit his website.