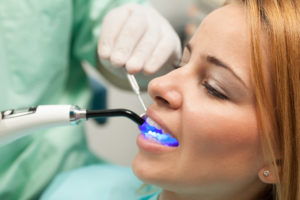 Even though we all do our best, most people are unable to prevent tooth decay, wear, and damage for their whole lives. When tooth decay or minor damage occurs, fillings are used to replace the lost tooth structure and restore patients' smiles. At Green Hills, we use composite resin to create the most natural looking fillings that strengthen damaged tooth enamel and last for years. Don't wait for your dental checkup. If you notice toothache, sensitivity, discoloration, or signs of wear around a tooth, call us to schedule an appointment right away. Tooth decay is often the cause of these concerns, and it may continue to spread destroying more of the tooth if left untreated.

Why Does Green Hills Use Composite Resin Filling Materials?
Composite fillings are the new gold standard in oral health care. Traditionally, fillings were crafted from silver-colored metal amalgams. However, in addition to looking unnatural within the smile line, these fillings could lead to additional tooth damage or decay because they would expand and contract when exposed to temperature changes allowing bacteria and plaque to accumulate over time breaking down the remaining enamel. We choose composite fillings because they look like natural tooth structure, and they are the more conservative treatment option. We simply apply the resin in a putty-like state directly to the damaged tooth where it can seep into even the smallest pits and grooves on the surfaces of teeth. Once the composite resin has filled in any gaps and replaced any lost enamel, we use a curing light to harden the filling into place. The entire process is quick and comfortable and leaves patients with a fully restored smile.
What is Direct Bonding?
Direct bonding is a cosmetic procedure that utilizes composite resin to conceal smile flaws. By applying the tooth colored resin to teeth that are discolored or misshapen, we can conceal or correct these flaws, leaving patients with perfected smiles in one short visit. For many cosmetic dentistry patients, direct bonding can be a viable alternative to veneers or other more advanced cosmetic solutions.
How can I Prevent Tooth Decay?
Daily brushing and flossing are the foundation for a lifetime of healthy smiles, and this is the best place to start when it comes to preventing decay. We recommend patients brush their teeth two times a day for at least two minutes at a time. You should always use a fluoridated toothpaste, and for best results, select products that have the American Dental Association seal. Flossing is necessary to remove decay-causing bacteria and plaque between teeth. We all enjoy sweets and sodas from time to time, but consuming these items in moderation can also improve your oral health.
About the Author
According to Dr. James Kirby, you should also plan to visit Green Hills in our family-friendly Nashville office at least twice a year. Since he joined Green Hills, he's been serving patients in the Nashville area in many facets of cosmetic dentistry. To learn more about cosmetic bonding or about the practice, you can contact him via his website.