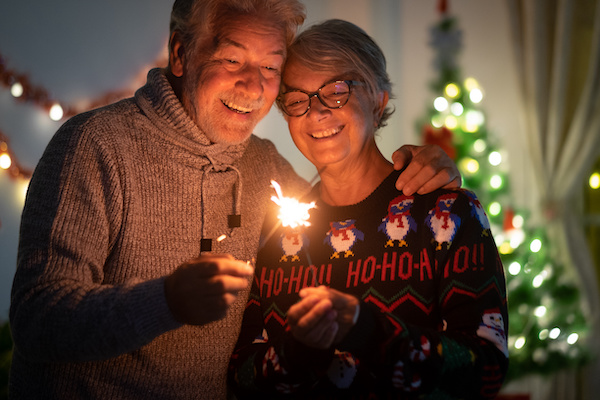 A new year is a great time to renew your commitment to yourself – and starting with your oral health is a wise choice. Having healthy teeth and gums will help you avoid serious issues like tooth loss and gum disease, both of which can take a toll on your overall well-being. So why not resolve to take better care of your smile in 2022?
Find 4 New Years' resolutions for Green Hills below. 
#1: Remember to Floss
One of the most common errors people make in their dental care routine is forgetting to floss. It's usually not because they don't want to – but simply because they can't remember! It's time to create a flossing habit. Set an alarm on your phone, leave a note on your mirror, find an accountability partner to join you – whatever you need to do to remember to clean between those teeth at least once a day.
#2: Eat Right for Your Smile
Did you know what you eat has almost as big of an impact on your dental health as brushing and flossing do? Eating a balanced, nutritious diet with plenty of fresh fruits and vegetables will help fill you up so it's easier to say no to those sweet treats. Plus, items like apples, carrots, and other fresh produce help to generate saliva production that washes away bacteria naturally.
#3: Up Your H2O Intake
In addition to eating well, you'll want to make sure that you are drinking plenty of water. Keeping your mouth hydrated makes it harder for bacteria to build up and cause cavities and gum disease. To help you remember to guzzle H2O during the day, get yourself a reusable water bottle that you're excited about – and fill it up as many times as you like!
#4: Protect Those Teeth
What do contact sports and nighttime teeth grinding have in common? Both can quickly lead to tooth injuries. If you wake up with a sore jaw due to teeth grinding and clenching or if you regularly participate in a rec football league (or any other contact sport), it's time to invest in the right protection for your smile. Talk to your dentist about the benefits of preventing injuries with a customized mouthguard for sleep or for sports.
There you have it! Four great ideas for resolutions to save your smile in 2022. With a little consistency, you'll be enjoying a healthy smile in Green Hills throughout the year and on into the next one!
Meet the Dentist
Dr. James Kirby earned his dental degree from the University of Tennessee in Memphis, where he also received the Harold S. Cloogman scholarship for academic performance. Today, he is passionate about helping Green Hills patients achieve healthy, beautiful smiles with excellent dental care – he is particularly enthusiastic about cosmetic dentistry and dental implant restoration. To learn more about Dr. Kirby or to schedule an appointment, please contact Green Hills Dental Center at (615) 327-2123.