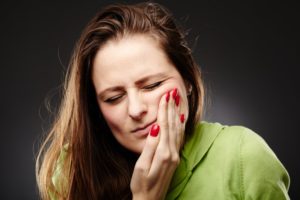 Facial pain is most often located in the forehead or cheeks, and there can be an array of reasons since it is a symptom, as opposed to a specific condition. There is a variety of facial pain in terms of duration, intensity, and whether it occurs on one or both sides of the face. In order to get proper treatment, determining the cause is essential. Read on as your emergency dentist in Green Hills details some common sources of facial pain and why they warrant professional help.
Temporomandibular Joint Disorders (TMD)
Your temporomandibular joint (TMJ) attaches your jaw to your skull and provides mobility. Conditions that affect the ability of the TMJ to function are known as TMD. Symptoms of TMD can include:
Misaligned bite
Limited jaw mobility
Swelling
Discomfort or pain in or near jaw when speaking or chewing
Fatigue
Clicking sounds when opening or closing jaw
If you are dealing with these symptoms, it's wise to contact your dentist. Many dental practices offer TMJ therapy.
Dry Socket
This condition can occur after a tooth is removed and pain is detected. It results from the blood not clotting properly at the tooth extraction site, which exposes bone and nerves. Symptoms of dry socket can include:
Bad taste in mouth or foul breath
Blood clot around at extraction site is visibly absent
Throbbing or persistent pain after an extraction
Since sufficient clotting is needed for healthy bone growth around the extraction site, this condition is important beyond just pain management. Your dentist needs to investigate to see if additional treatment is required.
Dental Abscess
This condition refers to an infection in your tooth pulp. Sometimes, bacteria can reach vulnerable blood vessels and nerves in your teeth via gum disease, tooth decay, or an injury. Abscessed tooth symptoms may include:
Fever
Gum or tooth sensitivity
Bad taste in your mouth
Pain that is persistent, throbbing, or arises when you chew
Red or swollen gums
A dental abscess absolutely requires urgent dental care. They are experts at treating this condition and relieving your pain, but a failure to seek help could result in tooth loss.
These are just a few potential causes of facial pain, but they're conditions a skilled dentist is well-equipped to help you address. In general, remember that it always makes sense to have a professional determine why you are hurting instead of assuming you'll eventually improve on your own.
About the Author
Dr. James Kirby earned his dental doctorate from the University of Tennessee Health Science Center. He's been working for the smiles of the Nashville area since 2008 and was excited to relocate to Green Hills. If you are ever facing what you believe to be a dental emergency, Dr. Kirby offers same-day emergency appointments and calming dental sedation, plus multiple financing options are available. You can schedule an appointment on his website, but if it's an emergency, call (615) 327-2123.