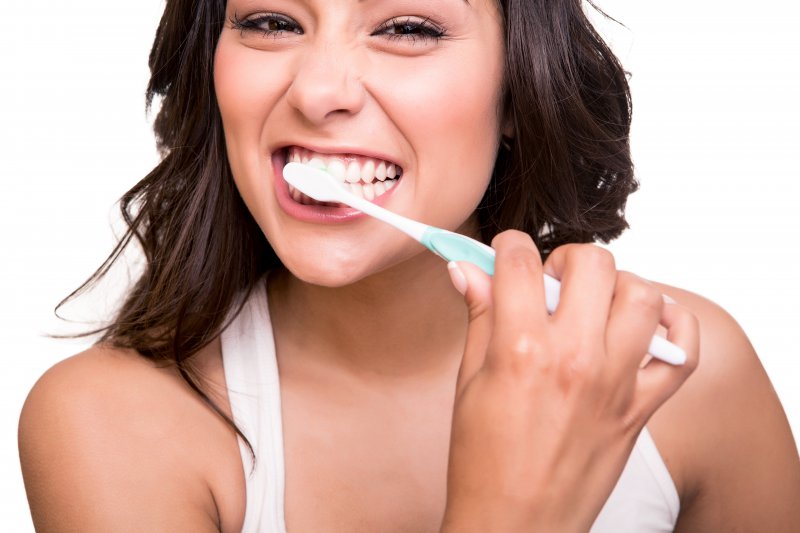 You may have been taught how to brush and floss at a young age, but you'd be surprised how many people are actually quite rusty when it comes to their oral care. Over the years, it can be difficult to notice if your habits have changed for the worse, especially if you haven't had a dentist confirm it for you. Since October is National Dental Hygiene Month, now is the perfect time to discuss dental hygiene tips in Green Hills that all of your family members can benefit from!
Is Your Brushing Technique Up to Snuff?
When brushing your teeth, whether it's with a manual toothbrush or an electric one, the first thing you should do is make sure that you're applying at least a pea-sized amount of tooth paste to your brush. You don't need any more than that to get the job done and you'll save money on oral care products in the process.
As you go to brush, make sure that you're holding the brush at a 45-degree angle towards your gums and teeth. Start brushing back and forth, reaching all the visible areas of your smile. Use small, concentrated circles to remove plaque and food debris from all the surfaces of your teeth. This includes both the chewing surfaces as well as the back surfaces that often get neglected. Make sure to brush for at least two minutes at a time, as many people forget this is the amount of time necessary to remove harmful plaque. You should be brushing twice a day as well, with most people brushing after they wake up and before they go to bed.
Are You Flossing Daily?
While flossing may seem difficult at first, it's easy when you know exactly how to do it. Start by pulling out 12 to 16 inches of floss at a time, then wrap the floss around both of your index fingers. Carefully slide the floss in between your teeth, gently removing any plaque or loose food debris from out of your mouth. Do not snap the floss from out of your teeth as this can actually damage your tooth enamel in the process. If you have not flossed for a long time and you notice bleeding in your gums, it should go away after the next day as you solidify your flossing habit. Flossing should be done at least once a day.
Got Gum Near Your Desk?
Whether you've just had a meal or your mouth is starting to feel dry and you don't have a bottle of water nearby, chewing sugar-free or xylitol gum can make a big difference. Chewing gum for at least 20 minutes after you eat a meal works to kickstart the saliva production process. This allows the mouth's natural functions to clean your teeth and gums and fight back against cavity-causing bacteria.
You won't have to worry about cavities moving forward when you have the right oral care routine in place! By the time the new year rolls around, you'll feel very confident during your next family photo!
About the Author
Dr. James Kirby earned his dental degree from the University of Tennessee's Dental School in Memphis. Today, he provides many types of preventive dentistry in order to help patients avoid tooth decay, gum disease, and other dental conditions. To learn more or schedule an appointment, you can contact him through his website.