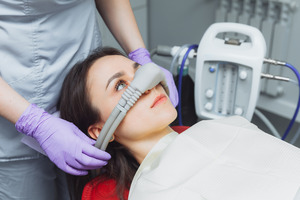 Do you often feel anxious about having any kind of dental work done? Your dentist might recommend dental sedation as a way to help you relax and stay as comfortable as possible during your next appointment. If you've never had dental sedation done before, you'll probably wonder what it's like and what you need to do to prepare. Here's everything you need to know before a visit that involves sedation.
What Kind of Sedation Does Your Dentist Offer?
The most common form of dental sedation is nitrous oxide sedation. Nitrous oxide is also known as laughing gas because it puts the patient in a state of euphoria. Your dentist will administer nitrous oxide in the form of a gas mixed with oxygen so that you can breathe it in throughout your appointment.
What is Nitrous Oxide Sedation Like?
When your appointment begins, a small mask will be placed over your nose to deliver the sedative. It should only take about three minutes for the nitrous oxide to take effect. You'll start to feel light and highly relaxed. In some cases, you might feel a tingle in your limbs, and you may actually giggle a little.
Nitrous oxide does not put you to sleep; you will still be conscious to answer our questions and follow any directions we give you. However, your reaction time will be slower than normal. You'll also be less sensitive to pain, which goes a long way toward making your treatment as comfortable as possible.
After your treatment is complete, you'll need to wait a few minutes for the effects of nitrous oxide to wear off. Once they do, you'll be able to drive yourself home or return to work.
How Should You Prepare for Sedation Dentistry?
Nitrous oxide is a minimal type of sedation, so there isn't anything special that you need to do to prepare for it. That said, it should be noted that nausea is sometimes a side effect of nitrous oxide, and having a full stomach can make the feeling worse. As such, it's usually recommended to avoid eating anything for at least two hours before your appointment.
Otherwise, the best thing you can do to prepare for a visit involving sedation is to make sure that you show up on time. Once you arrive, your dental team will review the sedation process with you before beginning your treatment. You can count on them to keep a close eye on your vital signs to make sure you stay safe.
Thanks to sedation dentistry, even patients with dental phobias or anxieties can stay calm during their appointments. If you think you might benefit from sedation during your next appointment, let your dentist know.
About the Author
Dr. James Kirby attended dental school at the University of Tennessee in Memphis. After his graduation in 2008, he decided to practice dentistry in Nashville. He enjoys all aspects of dentistry, and he is proud to be able to offer nitrous oxide sedation to help his patients get comfortable. To schedule an appointment with Dr. Kirby at Green Hills Dental Center, visit his website or call (615) 327-2123.