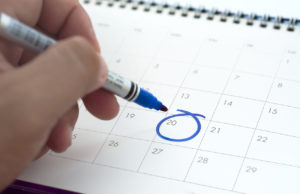 Did you know that the history behind seeing the dentist twice a year comes from military history? That's right – over 50 years ago, the teeth of the soldiers entering the armed forces were so bad, that dentists created the rule of thumb of twice a year dental care to improve dental health for all Americans. And to this day, this generality applies – to keep your smile up-to-par, you should visit your dentist in Nashville at least every six months. While some patients may need checkups and cleanings more often, the team at Green Hills explains why you should come in for an exam regularly.
Why Should I See My Dentist Twice A Year?
Dr. James Kirby knows that there are many reasons patients should have routine dental visits, including:
Professional Cleaning – No matter how great a job you do of brushing and flossing at home, there's only one way to get the deep clean you need: by seeing our dentists. Our team will be able to take care of the plaque and tartar buildup that toothbrushes can't handle, thus preventing cavities and other dental issues.
Diagnostic Imaging – Let's be honest – most patients don't have a dental X-ray machine at home. Since there can be problems with your teeth that the naked eye can't address, our safe, diagnostic imaging gives us the whole picture of your smile.
Gum Disease Prevention & Treatment – Since our professional tools and expertise allow us to clean thoroughly under the gum line, regular dental care from our team can prevent and treat gum disease. With prescription mouthrinses and other options for this common problem, we can stop tooth loss before it starts.
Cancer Prevention – Did you know that oral cancer is usually detected at a routine dental visit? In fact, over 120 medical conditions can be diagnosed with a professional oral exam. Screenings for cancers of the mouth and throat may only take a few minutes, but can add years to your life.
Why Should I See My Dentist More Than Twice A Year?
If you're in the list below, you will generally need to see us more than every six months:
Women who are pregnant
People with diabetes
Patients with gum disease
Those who are prone to cavities or plaque buildup
People who smoke or use tobacco products
Patients with a weakened immune system
So, if it's been longer than six months, there's no need to be embarrassed – we'd love to help you reclaim your oral health. Schedule your appointment with Green Hills today to keep your pearly whites healthy and bright!
About the Author
Dr. James Kirby knows that regular prevention is necessary to keep your oral health in good shape. With a decade of practicing under his belt and no signs of slowing down, you can trust him when he says regular visits will protect your oral and overall health. To learn more about his practice, contact him through his website.