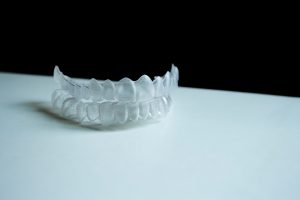 If you are self-conscious about your smile due to crooked teeth, you are not alone. Many adults would like to correct the alignment of their teeth; however, they do not want to deal with the hassle of traditional metal braces. Now, you can get the straight smile you have always wanted without metal wires or brackets. With Invisalign in Nashville from Dr. James Kirby, you will get a straight smile in less time without the headache or restrictions of metal braces.

How is Invisalign Different?
Traditional braces have held a common place in orthodontics for decades as they are affordable and effective. Metal braces involve the use of wires and brackets to pull the teeth into their correct alignment. While numerous advancements have been made to make braces less noticeable, they will never be fully discreet. Not to mention, the use of wires and brackets cause there to be multiple restrictions during the course of the treatment. In addition, there is often discomfort, irritation, and inconvenience. Now, you can avoid the headache and hassle of metal braces with a clear alternative.
Invisalign does not require wires or brackets to align the teeth. Instead, clear custom-made aligner trays are worn over the teeth. We create the clear trays in a series to gradually move your teeth without tugging or pulling. You wear each tray in the series for about two weeks. On average, it takes about 12 months to progress through the series. This offers various benefits when compared to braces.
The Invisalign trays are clear, which means no one will ever notice you are undergoing orthodontic treatment. Plus, the trays are removable. This means there are no dietary restrictions and oral hygiene is simple. In addition, you are able to progress through the trays right at home. You will not need to come into our office for adjustments. You will only need to come into our office every few weeks so we can monitor the progression of the treatment.
The clear, smooth trays are far more comfortable and convenient than traditional braces. You will not experience the discomfort of tugging or pulling of wires when adjustments are made. Not to mention, you will not experience irritation to the lips or cheeks due to the protrusion of metal.
Overall, Invisalign is a more comfortable and convenient means to get the straight smile you have always wanted. You will benefit from the most discreet treatment for a straight smile in less time.
Visit Your Dentist for a Straight Smile
At Green Hills, we believe in providing a different kind of dentistry. We offer the latest advancements in dentistry for the highest level of care. With Invisalign, we provide you with an alternative to traditional braces to save you the headache and hassle of metal wires and brackets. However, Invisalign is not suitable for everyone. You will require a complete consultation to determine if Invisalign is right for you.
If you are ready to benefit from the best orthodontic advancement, it is time to call our office for an appointment.
About the Author
Dr. James Kirby earned his dental degree from the University of Tennessee in 2008. After a decade of practicing, he's determined cosmetic dentistry to be of his favorite aspects of practicing dentistry. To learn more about Invisalign, contact him through his website here.