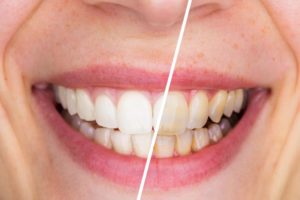 If you're concerned about the appearance of your teeth, then it's understandable. Studies show that when you meet new people, one-third of them will notice the condition of your smile before anything else. One of the more common aesthetic issues people face is dental staining, and yellow or brown teeth can make for a bad first impression. This problem is addressed with teeth whitening in Green Hills, but it's important to have it done the right way to prevent future issues. Learn why cheaper isn't always better as you read on.
At-Home Whitening Kits – A Cheaper Option
Now that teeth whitening has become so popular, there are several over-the-counter (OTC) options available at your local grocery store or pharmacy. They can be attractive to consumers because they are usually cheaper than going to the cosmetic dentist in Green Hills to have the whitening procedure done, and they save time – at least it appears that way at first.
Is Cheaper Better?
When it comes to quality, we have to ask the question: "Is cheaper really better?" What appears to be cost-savings turn out to be an illusion when it comes to OTC options. That's because the ingredients used are subpar in comparison to those applied by your local dentist. Thus, to get noticeable results, you're required to apply the whiteners more often, which then compromises the integrity of your enamel.
The Advantages of Professional Teeth Whitening
When you visit your cosmetic dentist for professional teeth whitening, you experience the following benefits:
Minimally Invasive Procedure – Professional teeth whitening amounts to less enamel being removed. Because the quality of ingredients used is much better, one application with some periodic touch-ups is quite sufficient.
A Painless Experience – Working with a professional also amounts to a pain-free experience. That's because your dentist will make sure your soft tissues aren't irritated during the process and that the least amount of enamel is affected by the treatment.
Definite and Lasting Results – When you take the professional route, in one visit you'll leave with your teeth up to 10 times brighter than they were. To maintain them, you can have touch-ups done at the same time you come in for preventive care appointments.
Cost Savings – Although OTC whitening alternatives seem cheaper, you will save more money in the long-run with professional whitening because there will be no guessing. Your dentist delivers definite results. Thus, you won't have to experiment with different options.
A beautiful, stain-free smile is available to you when you make the right choice. Reach out to your cosmetic dentist to schedule a consultation and get on the road to smile perfection!
About the Author
Dr. James Kirby earned his dental degree from the University of Tennessee in Memphis. Since graduating, he's gone on to provide precise care and gorgeous teeth for nearly a decade. Dr. Kirby builds lasting relationships with patients and puts smiles on their faces at Green Hills Dental Center. He can be reached for more information through his website.