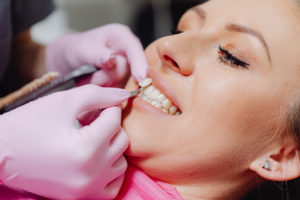 Social media influencers often encourage their followers to participate in various challenges. Many are for a good cause or entertainment, but others can have long-lasting consequences. The veneer check challenge has gained popularity on TikTok. Influencers are sharing their amazing transformations online. Although veneers can create a dazzling smile, some people are making the mistake of getting dental crowns. If you intend to join the challenge, here's what you need to know before revamping your smile.
Porcelain Veneers VS Dental Crowns
Porcelain veneers and dental crowns have similarities, but there are big differences between the two. A dental crown is a customized cap that's bonded over the entire surface of a tooth above the gum line. Crowns are most often used in restorative dentistry, but they also provide cosmetic benefits, thanks to all-ceramic materials.
A crown can give a tooth an added layer of protection, restore its function, and improve its appearance. This can be a great option to fix a single tooth, but you wouldn't want to bond them to several teeth because your smile may look bulky and unnatural.
Veneers differ because they only cover the front sides of teeth, making the procedure minimally invasive. They are thinner than crowns and require less enamel to be removed during the application process, so you'll maintain more of your tooth structure.
Veneers can treat cracks and chips, but they are most often used for cosmetic purposes. Veneers create natural-looking results when used to correct many aesthetic flaws, like discoloration, chips, and gaps.
Benefits of Porcelain Veneers
You have more options than ever to transform your teeth, but veneers continue to rank among the most popular cosmetic procedures, and for good reasons, like:
Natural-Looking Results: Veneers are made of porcelain because it closely resembles enamel. Only a trained dental professional will know they aren't part of your natural tooth structure.
Fix Multiple Issues Quickly: Veneers are versatile because they can correct many issues at once, so you won't need several procedures.
Minimally Invasive Procedure: The front sides of your teeth are lightly etched to ensure your veneers sit flush for a strong bond. Veneers are thinner than ever, so less enamel is removed for a minimally invasive process.
Durable for Long-Lasting Results: Although veneers are thin, they can last for 10 years or longer with the right aftercare, like brushing and flossing.
Cost-Effective Solution: Veneers can save time and money because you won't need multiple procedures to address several concerns.
Your cosmetic dentist will examine your mouth and learn more about your goals to determine the best procedure for your needs. They'll turn the smile of your dreams into reality using a personalized treatment plan.
About Dr. James Kirby
Dr. Kirby earned his dental degree at the University of Tennessee in Memphis and has regularly continued his education in many specialties, like cosmetic dentistry and dental implants. He strives to help each patient achieve a healthy, beautiful smile. Request an appointment online through his website or call (615) 552-1458.