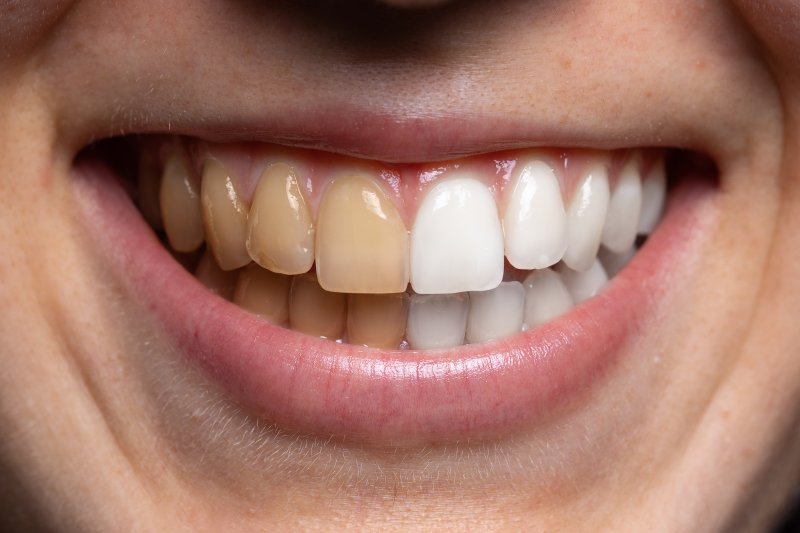 Everyone wants to have a bright celebrity smile they can show off. The more dazzling your pearly whites, the better the possibilities for your social and professional life! However, many people experience their usual day with discolored teeth. If you're in the same boat, you'll probably want to know what causes this and how to remove it. Read on to learn the three types of tooth stains and how you can get rid of them.
The 3 Types of Tooth Stains
Did you know there are mainly three types of tooth discoloration? These include:
Extrinsic: These are the stains that primarily affect the surface of your teeth, or the enamel. This most commonly happens if you tend to drink dark beverages (like coffee or tea), sticky dark foods (blueberries, blackberry jam, etc.), or if you use tobacco products.
Intrinsic: This type of discoloration begins within the tooth, making it more difficult to address or remove with over-the-counter whitening products. These stains usually appear grayish and are caused by certain medications, tooth damage or decay, genetics, and even excessive fluoride.
Age-Related: Generally, our teeth stain simply because we're growing older. Over time, the enamel wears away after years of use, which tends to result in a yellowish appearance. Sometimes, age-related stains are caused by a combination of intrinsic and extrinsic reasons.
How Can I Get Rid of Tooth Stains?
Treating discolored teeth usually depends on the reasons why it happened in the first place. Luckily, there are plenty of options available to get your teeth whitened. The following are just a few you should consider:
Over-the-Counter Products: Store-bought whitening toothpastes or strips are convenient, but they're also less effective when addressing intrinsic stains. Instead, your dentist can provide the more professional-grade products to get you the ideal results.
At-Home Treatments: Some dentists can create custom trays for you to whiten your teeth at home. By wearing them for the recommended time, you can get your teeth many shades brighter.
In-Office Treatments: The best options for teeth whitening are right in your dentist's office. Using their Sinsational whitening system, your teeth will be significantly whiter in just 20 minutes! In addition, you can ask your dentist about several other cosmetic treatments to get rid of pesky stains, including veneers and direct bonding for a more lasting and complete makeover.
You don't have to live with discolored teeth if you don't want to! With your dentist's help, you can look forward to having the bright smile you always wanted.
About the Author
Dr. James Kirby earned his dental degree at the University of Tennessee in Memphis. With a passionate team and the latest technology, he provides a vast array of dental treatments for your dental needs, including cosmetic dentistry for a brighter smile. If you want to know more about the types of tooth stains and how you can get rid of them, visit his website or call (615) 327-2123.