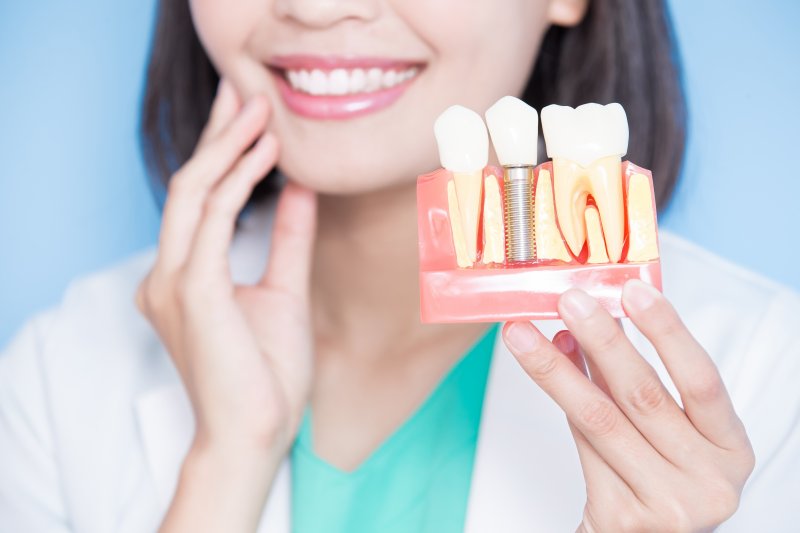 As you might know, teeth whitening tends to be rather effective. Its bleaching gel can brighten your enamel by six to eight shades. Still, you may wonder: will teeth whitening work on a dental implant? The latter is more toothlike than a denture or dental bridge, so you could assume it'd turn out well. Truthfully, though, dentists can't whiten your implants. To learn why, read this helpful summary from your local Nashville dental practice.
Yes, Dental Implants Can Stain
Technically speaking, implants can suffer from staining. This trait is something they have in common with natural teeth.
You see, implants are only stain-resistant; they aren't stain-proof. As such, consuming too many dark-colored items can gradually affect their color. (Common examples of these products are coffee, tea, berries, tomato sauce, red wine, etc.) Doing so exposes your mouth to dark pigments and chemicals that can stain porcelain surfaces. So, compensate by restricting your intake of the relevant foods and drinks.
You Can't Whiten Implants
While implants can get stained, they can't be brightened via teeth whitening. The latter treatment doesn't work on implant materials.
Remember, teeth whitening relies on a special bleaching gel. This gel seeps into your enamel to remove stubborn tooth stains. That said, implants' porcelain is nonporous; it won't let bleaching gel enter. Consequently, whitening would brighten your natural teeth but not your implants. You'd end up with mismatched teeth that draw too much attention to themselves.
At best, you can remove light implant stains with good oral hygiene. They'll often come off with regular brushing, flossing, and dental visits. Deeper stains, though, are essentially permanent.
See Your Dentist for Help
While whitening won't lighten your implants, you're not out of options just yet. Your local dentist has methods to give you a full and bright grin.
One approach is to get teeth whitening before the implant. That way, the dentist could place a prosthetic that matches your newly-white enamel. The results would thus be uniform and seamless.
If the implant is already placed, though, the dentist may need to remove it. They'd then follow up with the relevant whitening procedure. Once that's done, the dentist and their team could place a new implant.
Teeth whitening won't work on a dental implant, but don't let that fact stop you. See your local practice to get a restored grin that's bright and shiny!
About the Practice
Green Hills Dental Center is based in Nashville, TN. Led by Dr. Kirby, our practice strives to give each patient exceptional dental care. We thus offer preventive, cosmetic, and restorative treatments, as well as emergency dental procedures. Of course, these offerings also include high-quality teeth whitening and dental implants! To that extent, we're able to give you a full and bright grin. For more details or to book a visit, you can reach us on our website or by phone at (615)-327-2123.