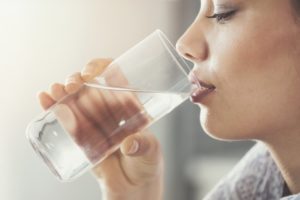 You may not know all the benefits fluoride has to offer your oral health, but you're using it daily. It's naturally present in all water, but the levels are effectively and safely adjusted in your local drinking water to benefit your community's oral health. So how can it help you? It has been scientifically proven to help protect you and your children's smiles. With information provided by your dentist in Green Hills, you can get the facts on fluoride.
What is Fluoride?
Fluoride is derived from an element called fluorine. It's naturally found in your water and the air you breathe and is odorless and practically tasteless. It has the ability to redeposit minerals to the enamel of your teeth to repair it and prevent things like tooth decay. Be mindful that when too much fluoride is consumed at an early age, it can cause fluorosis. This can create varying degrees of cosmetic problems like discoloration of your teeth.
Fluoride was added to most community-based water supplies 50 years ago and is the reason that tooth decay has drastically been reduced. But there are many other things you could gain from fluoride.
What are the Benefits of Fluoride?
Fluoride can offer different advantages to aspects of your oral health. Here are a few:
People at high risk of tooth decay can benefit greatly by consuming this miracle mineral.
Fluoride can stop or reverse the process of decay.
Fluoride prevents damage to your enamel.
The mineral decreases the risk of cavities for adults and children.
You may have heard that fluoride can harm you, but it has been thoroughly tested for over 80 years and has been proven to be vital in maintaining great oral health. Being as cost-effective and accessible as it is, it has proven itself to be helpful to everybody, no matter their economic status or access to dental care.
Where Can I Get More Fluoride?
If you don't have access to fluoride in your community, or if you drink bottled water instead of tap water, you may be searching for ways to get a healthy amount of the mineral. There are a couple of ways to do this:
Fluoride supplements are typically available only to children between 6 months and 16 years old who have little or no levels of fluoride in their drinking water. Without this, they can be at a higher risk for tooth decay or developing cavities. Prescribed by your dentist or pediatrician, these supplements are typically available as liquid drops so they can be easily digested by your children.
Fluoride treatments are also typically reserved for younger children, but in certain cases, adults could benefit from them as well. If your child has a history of tooth decay or cavities, these treatments could give them the extra protection they need to help ward them off. They can be provided by your dentist when you take them in during their 6-month checkups and only take a few minutes. Your dentist will apply a topical application with a cotton swab.
Fluoridated toothpastes and mouthwashes are easily accessible and can help boost your fluoride intake.
Whether you have access to fluoridated tap water or not, it can never hurt to ask your dentist whether or not you should use more of it. During your checkup, you can ask your Green Hills dentist if they can recommend a certain fluorinated toothpaste or mouth rinse that can help beef up your oral health. This magic mineral can make help ease your dental worries and give you your best smile!
About the Author
Dr. James Kirby spends time with his patients so he can get to know and understand their needs. With individualized treatment, he is able to make you feel comfortable and great with the care he provides you with. Your routine checkup and cleaning will be something you look forward to at Green Hills Dental Center. For questions or to schedule a checkup, visit his website or contact him at 615-552-1458.