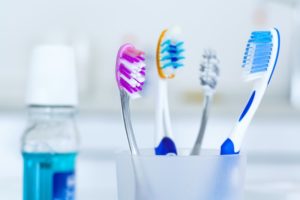 Your toothbrush might have made you cringe this morning with its frayed and yellow-tinted bristles. You're hesitant to brush with it because you don't have a new one laying around. But do you wonder when you should've made the switch? Your dentist in Green Hills gives some advice about when to replace your toothbrush. <
What Toothbrush is Best For You?
There are many toothbrush options ranging from manual to electric and extra soft, soft and medium-bristled. Studies show that medium bristle toothbrushes are more effective at removing plaque and bacteria than soft and extra soft bristle brushes. On the flip side, they can also cause more damage to your gums—making dentists recommend extra soft or soft bristle brushes to maintain overall good dental health.
Between manual and electric brushes, it is important to choose whatever feels most comfortable for you. Manual toothbrushes are easier to pack away and bring with you because they don't require a charging port or rely on a battery. Many electric toothbrushes also have built-in sensors to prevent you from brushing too hard. Ultimately, the ideal toothbrush is unique to you and how you brush.
The Lifespan of Your Toothbrush
Depending on your usage and health preferences, whether you have an electric toothbrush head or regular toothbrush, they should both typically be replaced every few months. The bristles can become frayed and worn down affecting their ability to clean and get rid of plaque. If you're a rough brusher, they may need to be replaced more frequently. You can usually tell by paying attention to how the bristles look—if they're bent and frayed, it's time for a new toothbrush.
The Best Ways to Maintain Your Toothbrush
There are some small steps you can follow to protect your toothbrush and keep it clean and functioning for longer periods of time:
After each time you wash, rinse your toothbrush under the faucet to get rid of any excess toothpaste or saliva.
Store your toothbrush upright so it can air dry and avoid storing it in a closed container to prevent bacteria buildup.
If you get sick, be sure to replace your toothbrush.
Having a few new toothbrushes on hand in case you need them is helpful as well. Maintaining your toothbrush and being aware of what quality the bristles are is essential to noticing whether or not you need to get a new one. Regular checkups with your dentist can also lend a helping hand when it comes to making your oral hygiene routine as successful as possible!
About the Author
Dr. Kirby has worked in both private and corporate dentistry and is ready to serve the Green Hills area by building lasting relationships with his patients. His goal is to provide his patients with the care and compassion that he would want out of his dentist. For more information about Green Hills Dental Center or to schedule an appointment, visit his website or contact the Center at 615-552-1458.