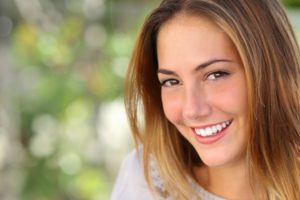 Your dental health has always been a top priority, which is why you practice proper oral hygiene and visit your dentist twice a year. However, when you look in the mirror, you now see some changes to your teeth and gums. Your smile just is not what it used to be despite your preventive efforts. Age can cause significant changes to your oral health and the appearance on your teeth. In fact, how they look can show your age just as much as wrinkles or gray hair. You can help to turn back the hands of time by making simple changes to your daily life.

Combat the Damages of Dry Mouth
As you age, you may begin to experience dry mouth. This can be due to hormonal changes or certain medications, like those that control blood pressure. No matter the cause, the decrease in saliva is not only uncomfortable but causes bacteria to accumulate. This can increase your risk for tooth decay and gum disease.
To help keep your mouth moist, you can chew sugarless gum or suck on sugarless candy to keep saliva flowing. In addition, it is best to choose water to drink over other beverages whenever possible.
Snack Smart
Over the years, your enamel has started to weaken, increasing your risk for tooth decay. To help protect your teeth from damage, it is best to limit your consumption of sugary drinks and snacks, which will eat away at your teeth. Instead of cookies and chips, choose fruits, vegetables, and low-fat dairy products.
Prevent Staining
Over time, your teeth will naturally become darker. However, if you smoke, consume darkly pigmented foods or drinks, or expose your teeth to acids, you will increase the severity of staining. To protect your smile, it is best to avoid stain-causing factors, like tobacco, coffee, and berries. However, if you cannot avoid them altogether, it is best to brush your teeth immediately afterward.
Visit Your Dentist Regularly
Now more than ever, regular appointments with your dentist are important to protecting the health and appearance of your smile. Over the years, your dental health needs change. You need to schedule an appointment at least every six months to prevent issues from occurring while also maintaining a youthful smile.
Look Younger Today!
If your smile is telling your age, you can make simple changes at home to turn back the hands of time. However, if you would like to make more drastic improvements to the appearance of your teeth, your cosmetic dentist offers the solutions you need for a youthful smile.
About Dr. James Kirby
Dr. James Kirby earned his dental degree from the University of Tennessee's dental school in 2008. His largest interests in dentistry include cosmetic dentistry and dental implant restorations. He loves building healthy relationships with patients and helping them achieve healthy, beautiful smiles in between visits. Feel free to contact Green Hills today at (615) 327-2123 to schedule an appointment.